What are Affresco frescoes and photo wallpaper?

Fresco is a painting on a wet plaster, one of the ancient technic of wall paintings. Lime contained in a plaster, forming a fine transparent film during drying, making a fresco durable. Affresco frescoes produced by using the innovative materials but the concept of fresco's creation - the applying a natural pigment on a wet plaster – stays invariable.
Affresco photo wallpaper is produced by the same technology as frescoes, but there is one difference: photo wallpaper is produced on other textures. There are 16th standard sizes of photo wallpaper that allows selecting wallpaper for any wall. All Affresco photo wallpaper is produced by one canvas.
During development of Affresco technologies the quality of produced frescoes and photo wallpaper continuously improving. Fireproof, water-resistant, ecologically clean, flexible, fadeless and durable canvas is capable of decorating any interior of a building facade. All Affresco products are patented and have certificates confirming the high products quality.
The base for Affresco frescoes and photo wallpaper is a non-woven canvas that is produced in the unique size of 3,26х10,2m specially by Affresco's request and it allows to decorate a wall without joints. 
Technological process of frescoes and photo wallpaper creation is difficult and laborious and all the production is hand-made. 
Stages of frescoes and photo wallpaper production
1. Picture creation
Each picture in the Affresco collection is a work of Affresco painters and designers or high-quality images, corresponding to all quality image standards developed by Affresco. Every detail, style, theme and composition well thought-out in the image as well as considered the symmetry of all the elements.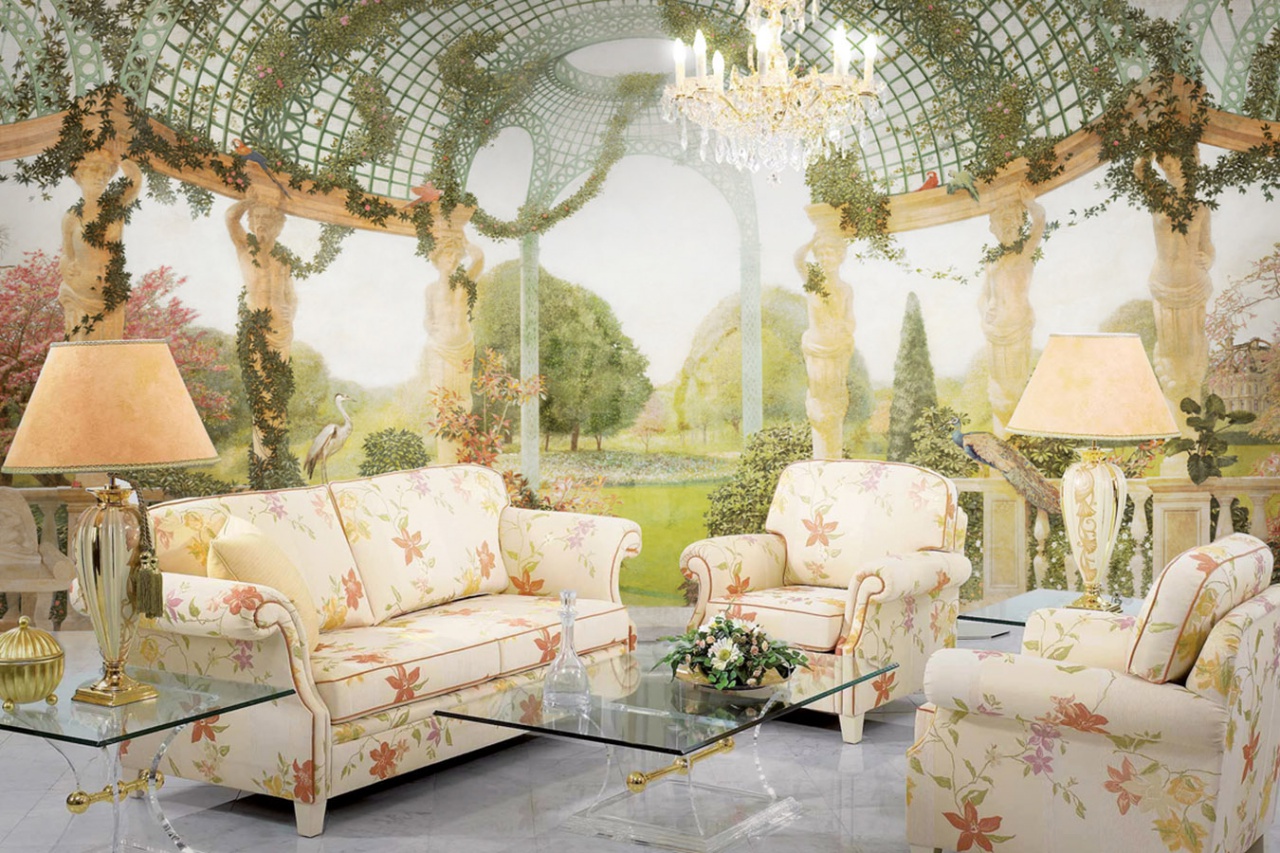 Such an approach to the image creation allows obtaining a perfect quality in frescoes and photo wallpaper production of a very big size. In spite of a big selection of themes in factory's library, Affresco painters and designers continue to create new themes corresponding to fashion trends in interior design.
2. Canvas production – bases for Affresco frescoes and photo wallpaper

Affresco has developed and patented a technology that allowed to produce the unique seamless canvas of 3,26х10,2m. Affresco craftsmen apply thin layers of decorative plaster with a putty-knife on the non-woven base in a special way (depends on a texture). In spite of several applied layers the thickness of any canvas is up to 1 mm. it makes Affresco frescoes and photo wallpaper light and flexible but durable and excluding a forming of cracks at the same time.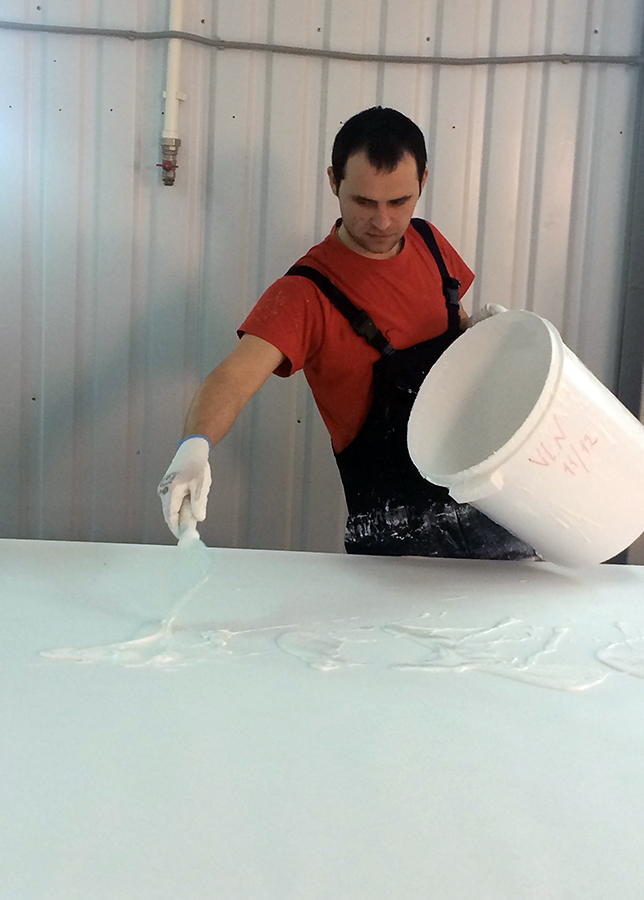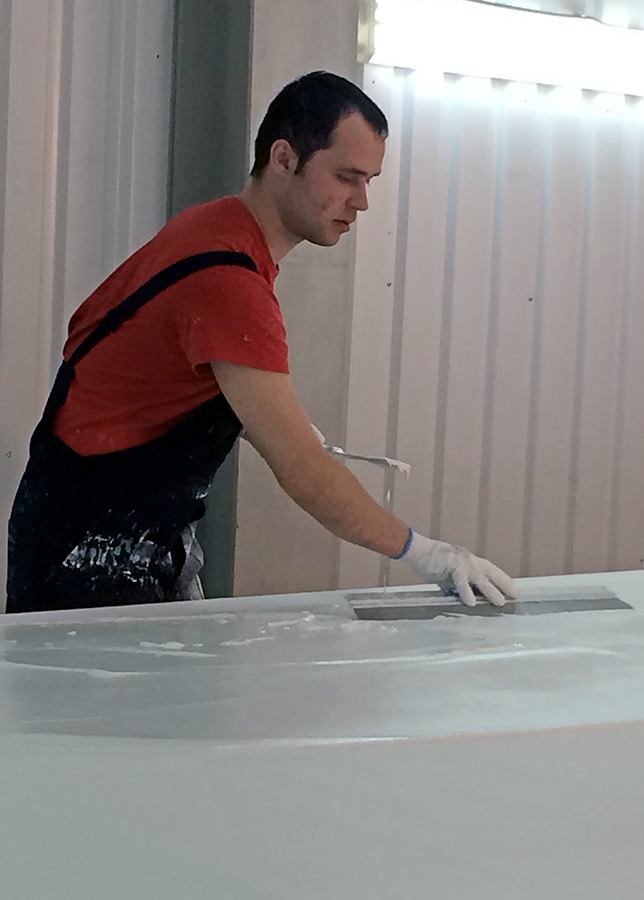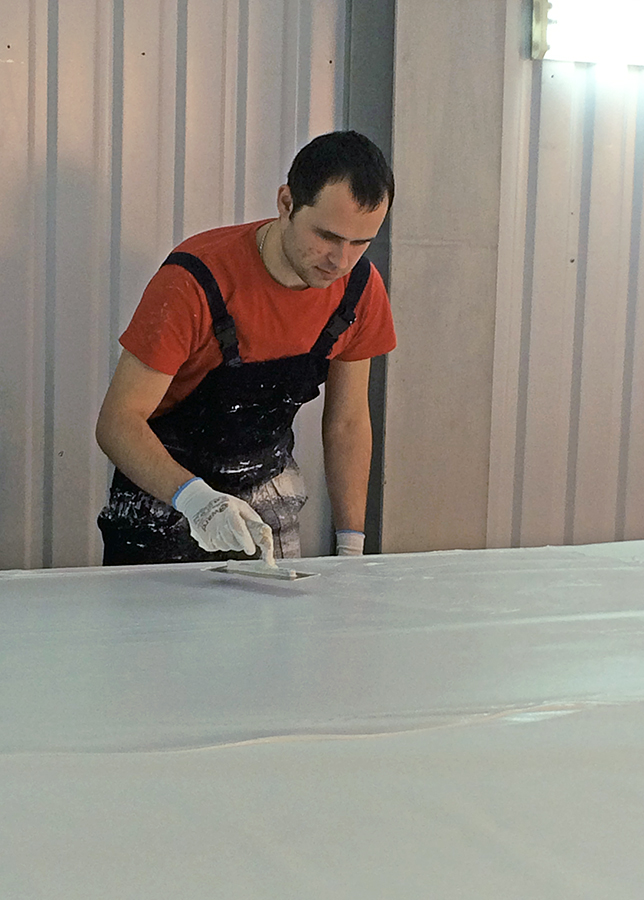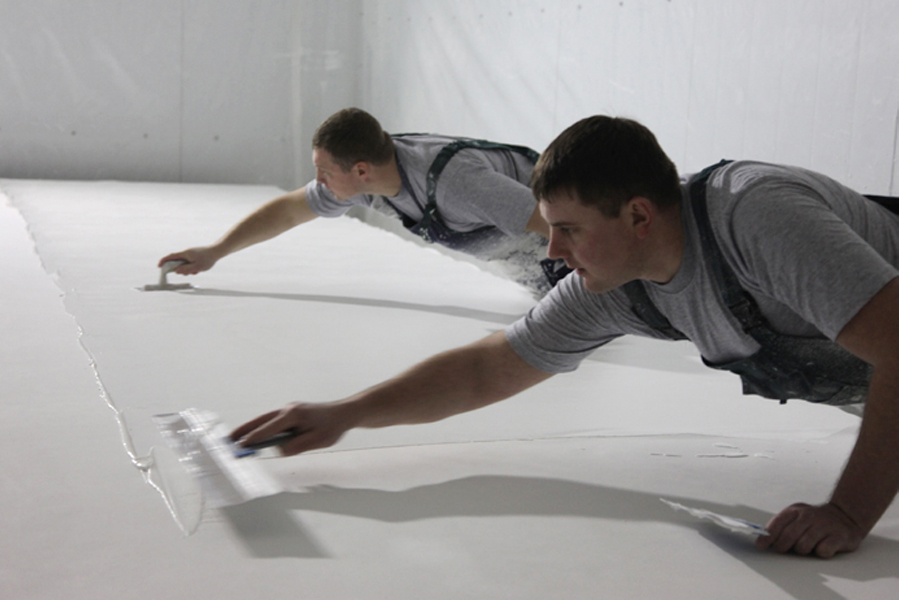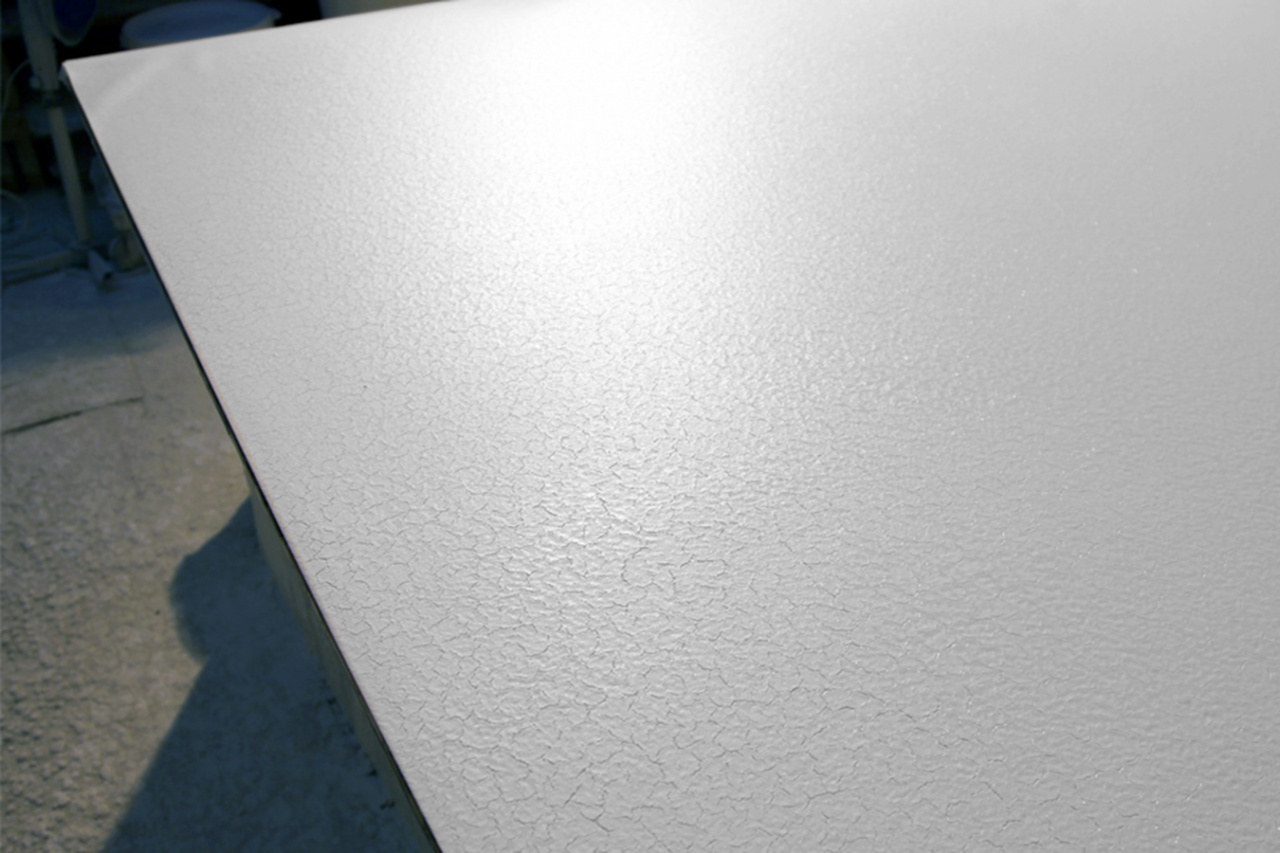 3. Preparation of an individual design
After the image and materials are selected by clients and sizes are determined, the order immediately transferred to the production department. Designers check the selected image; correct its color and composition if client has requested it. To order photo wallpaper you just need to select a preferred image, size and texture from a catalog.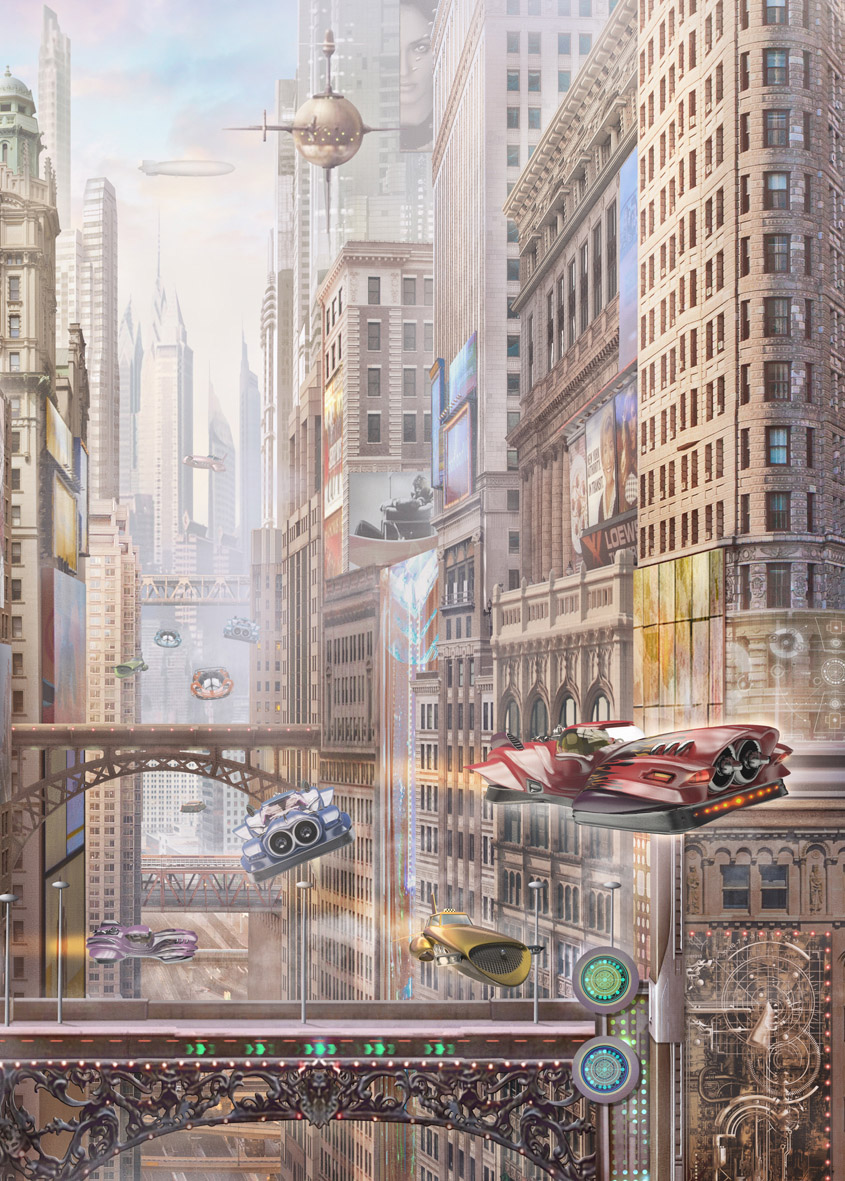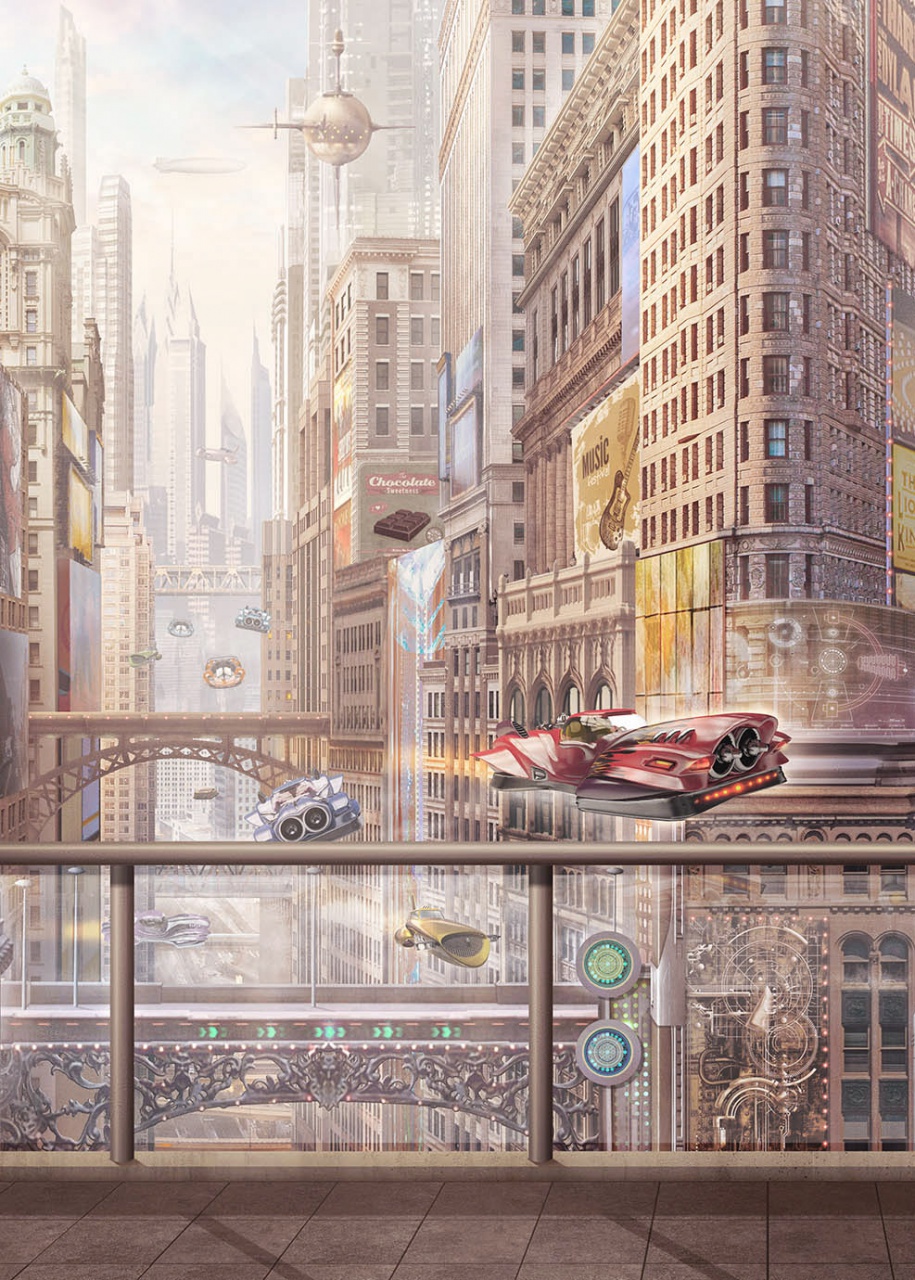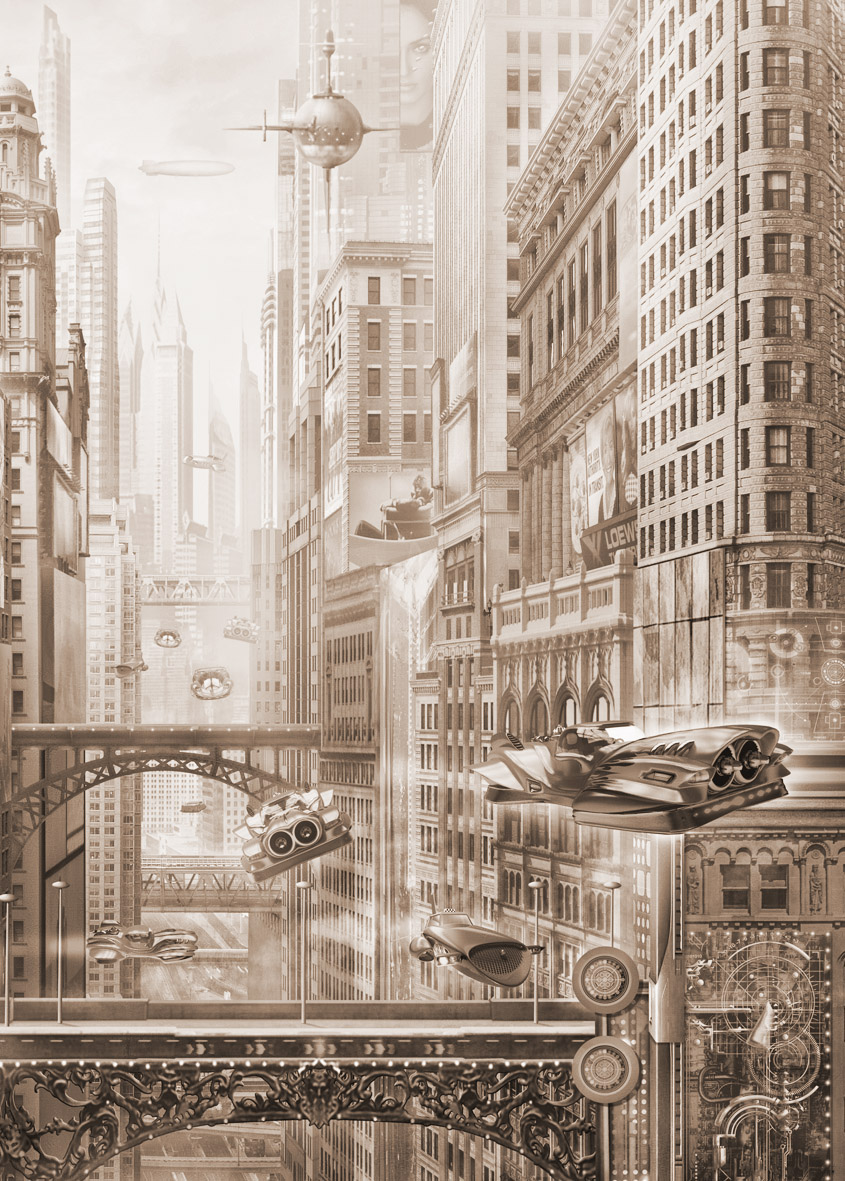 4. Image transferring
The image transferring process is effected on a modern and high-technology equipment, allowing to produce seamless canvas of a big format with a high quality of color and details transferring. This technological process is the exclusive and doesn't have analogs in the world! This transferring technology repeats each touch of a painter and even imperceptible color shade. Using this technic the pigment enters to a plaster and so makes canvas durable.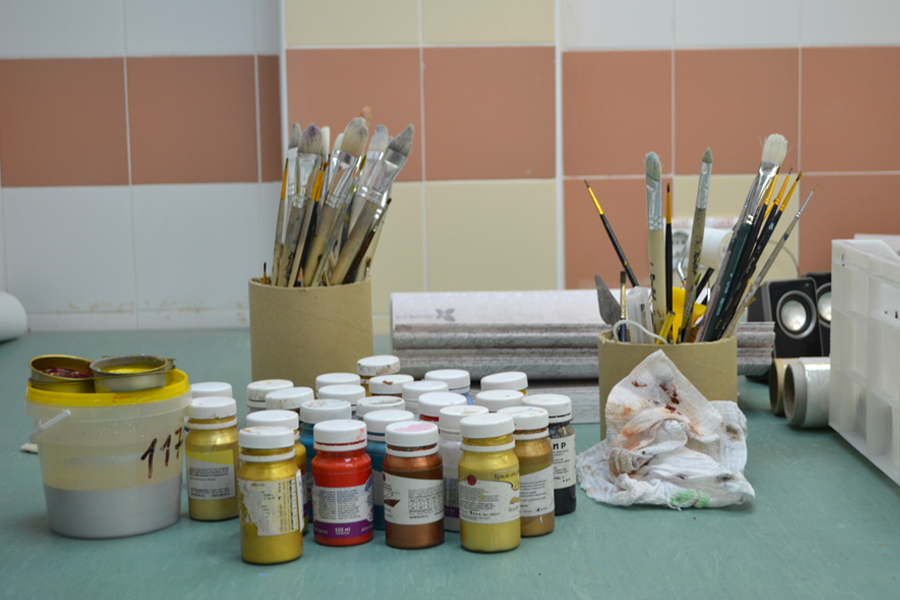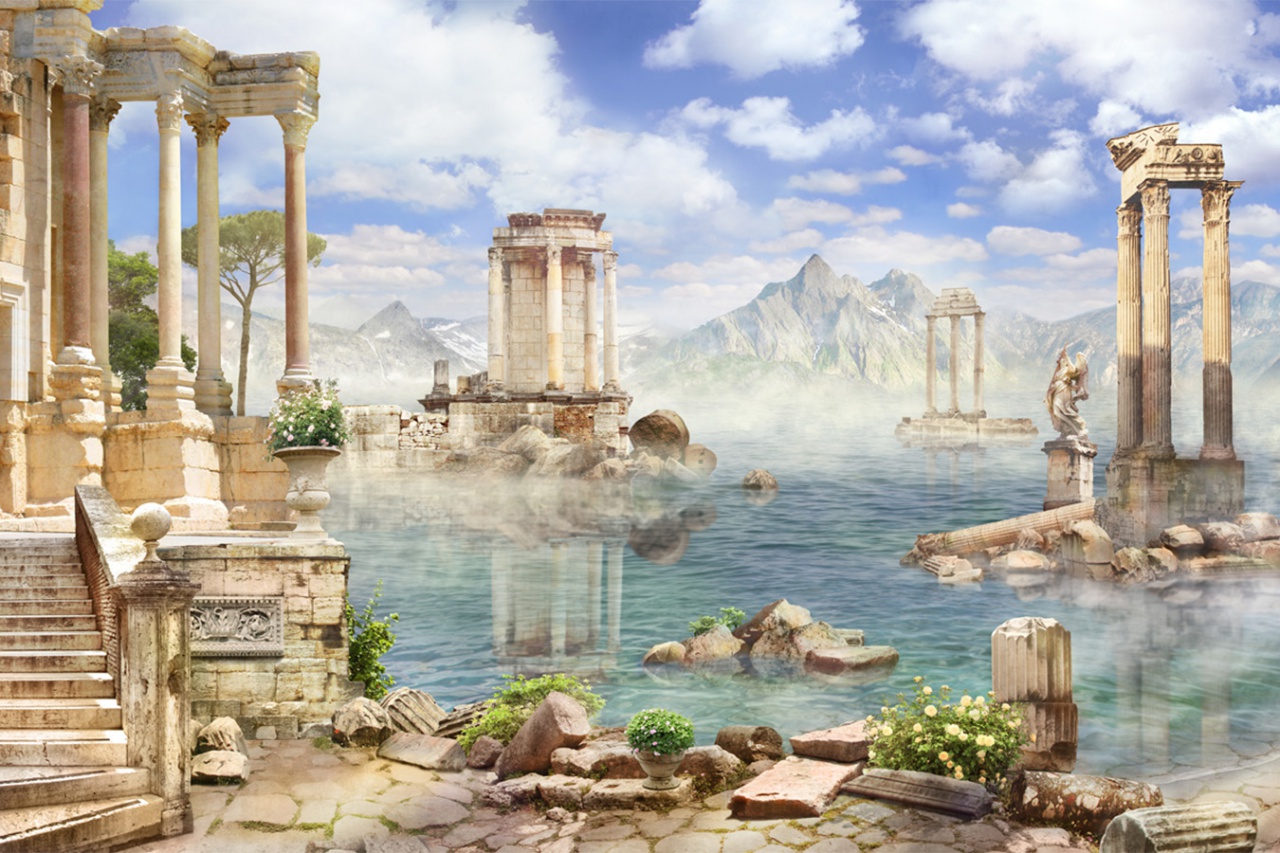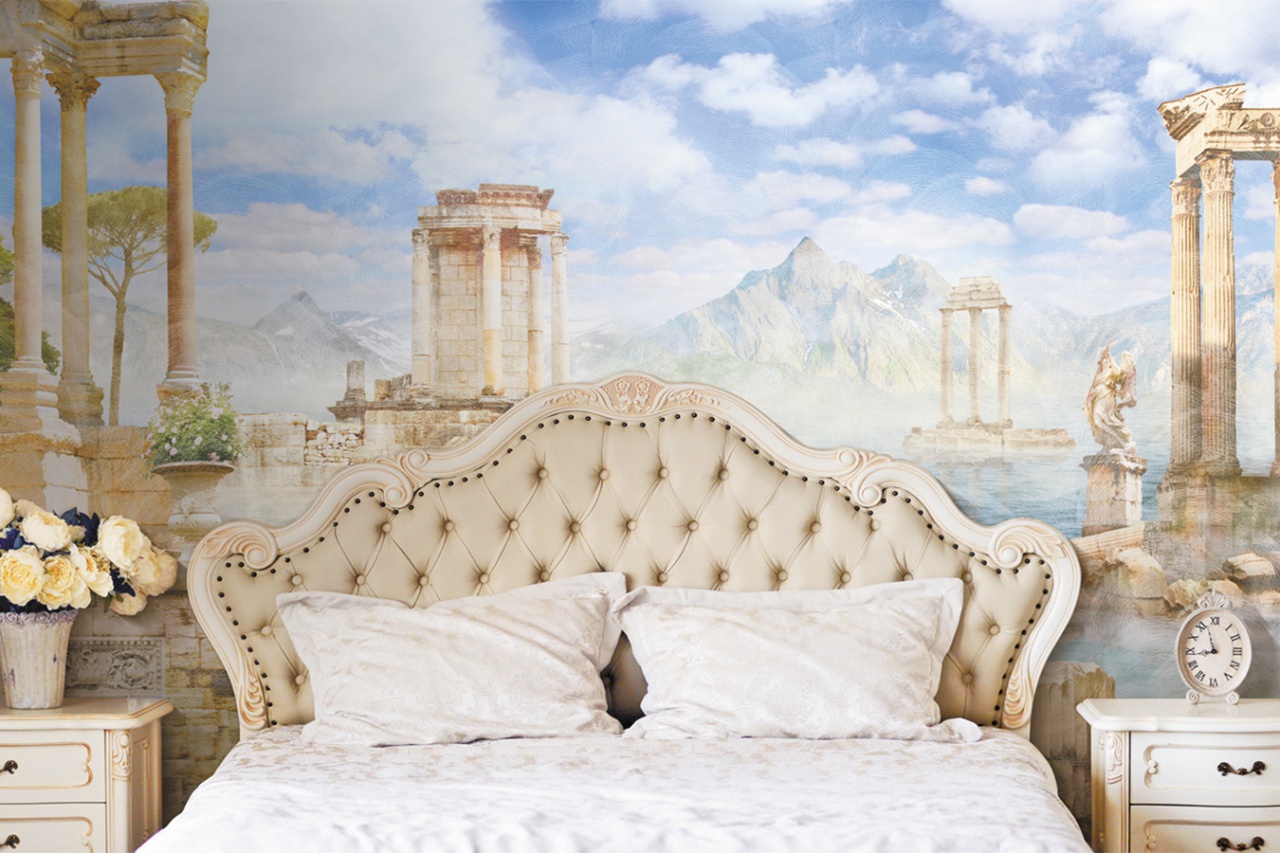 5. Artistic drawing of details
At the final production stage the wallpaper is transferred to the art atelier. Painters draw the most significant details making each product a really unique.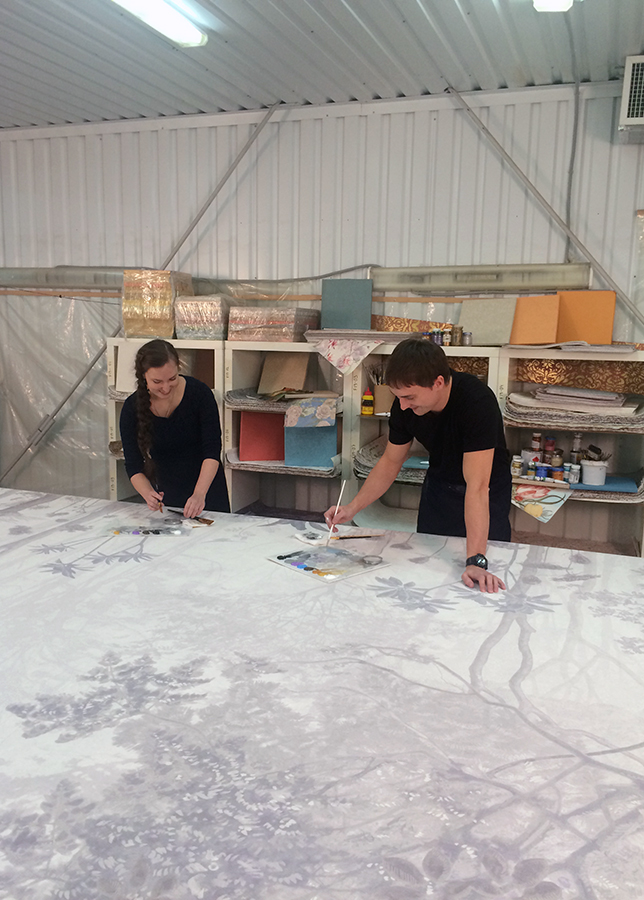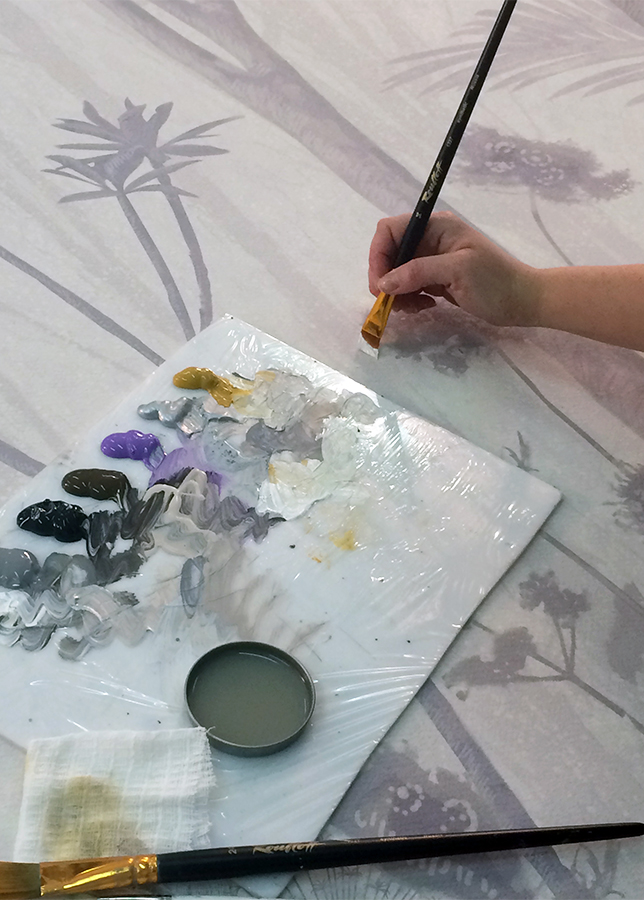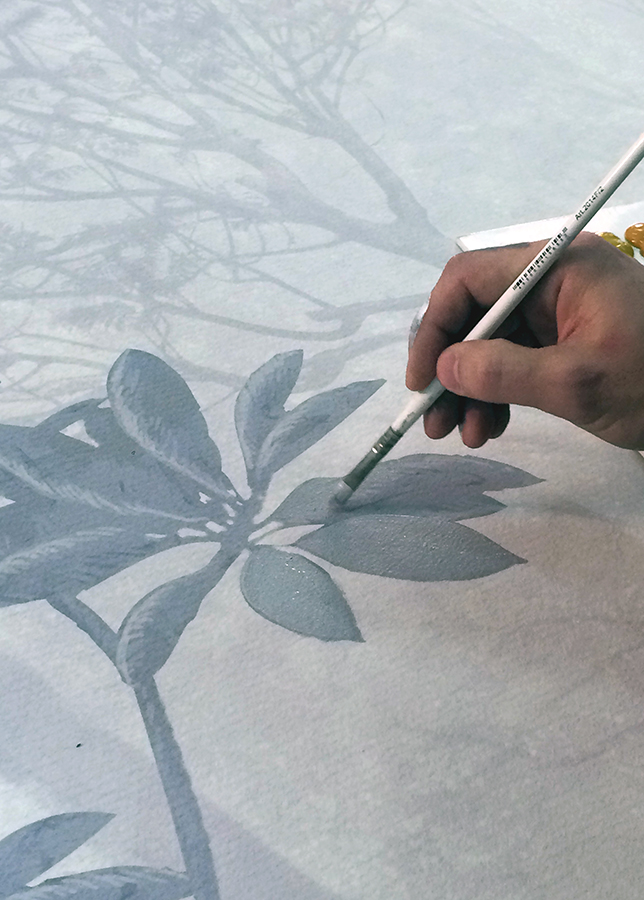 6.Aging effect of frescoes and decorative rubbing of cracks
During production of frescoes with natural cracks "Craquelure" a craftsman rubs cracks by marble chips before cover fresco with a varnish. As a result an aging effect is obtained.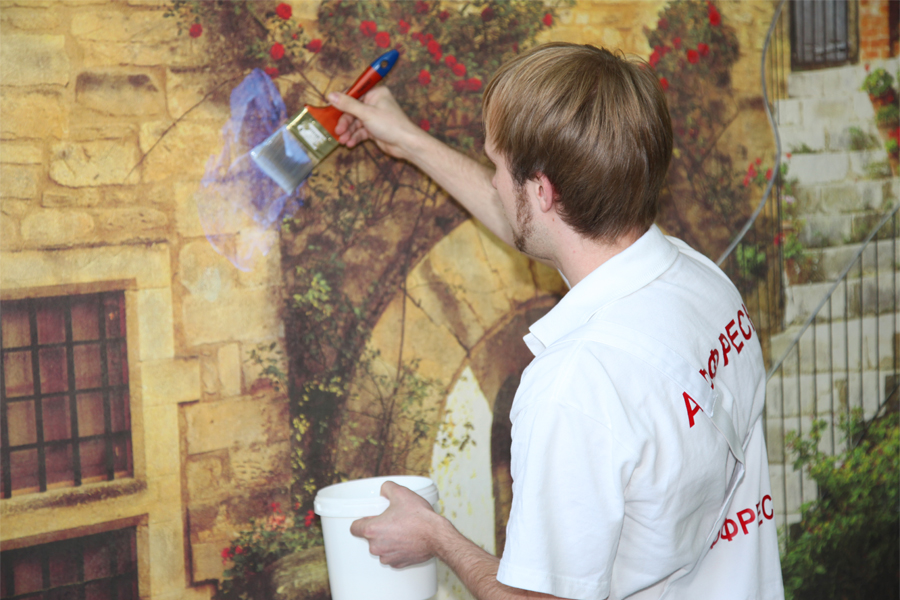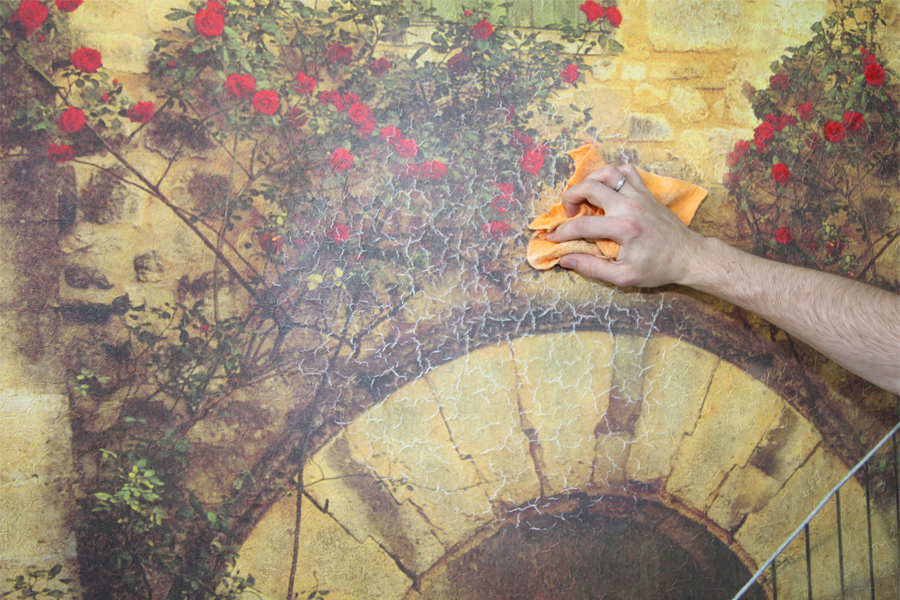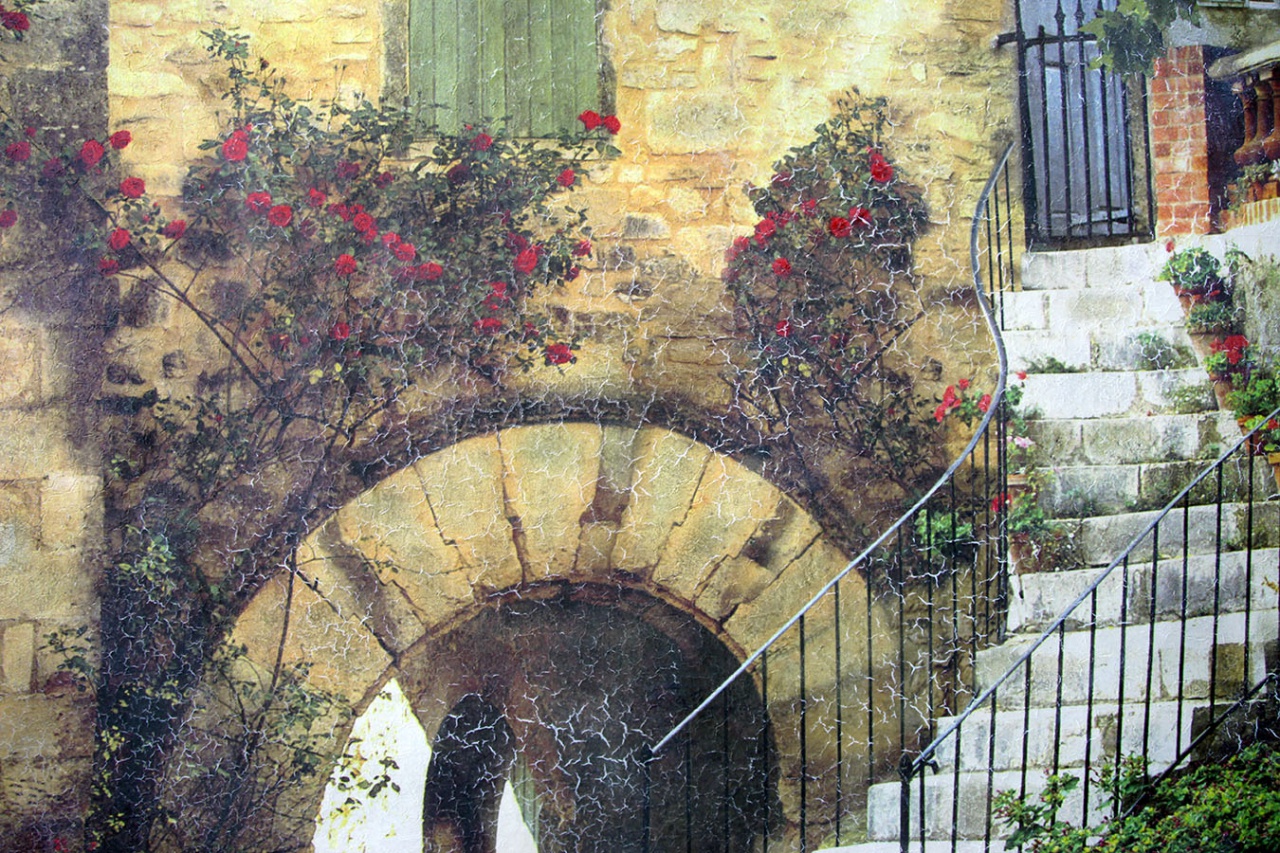 7. Covering with a protective varnish
All Affresco frescoes and photo wallpaper are covered with a special protective varnish that prolongs a durability of products and protects it against moisture, scratches and sunrays. The varnish is applied by a thin layer and not shine after drying.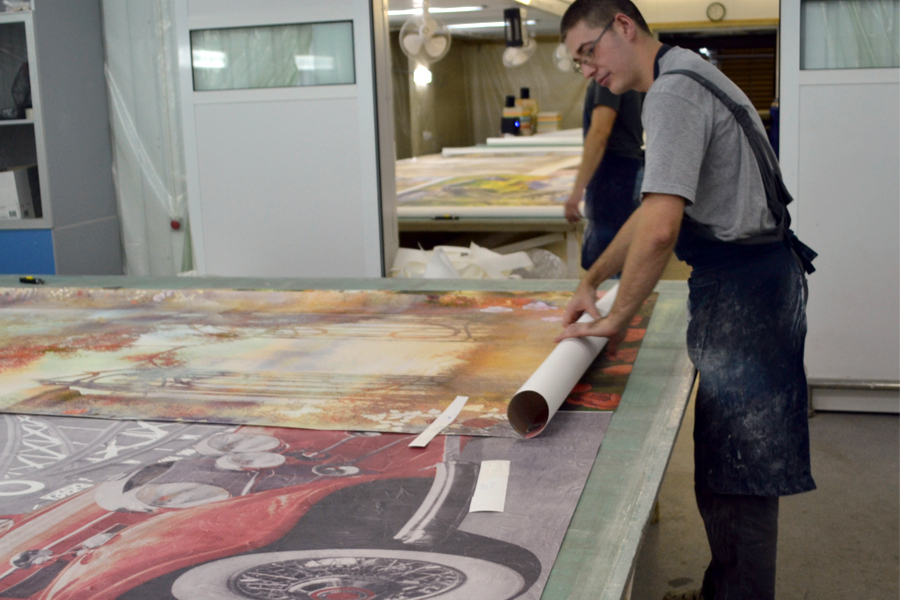 8. Quality control test and packaging
The quality control test is carried out at every stage of production process. Each canvas has a quality stamp at its back. In order to the protection against forgery each product gets its individual order number. Flexible canvas rolls up into a roll, envelops with a stretch film and placed to a hermetic tube. In such a tube the product can be stored during a year saving all the characteristics not loosing flexibility.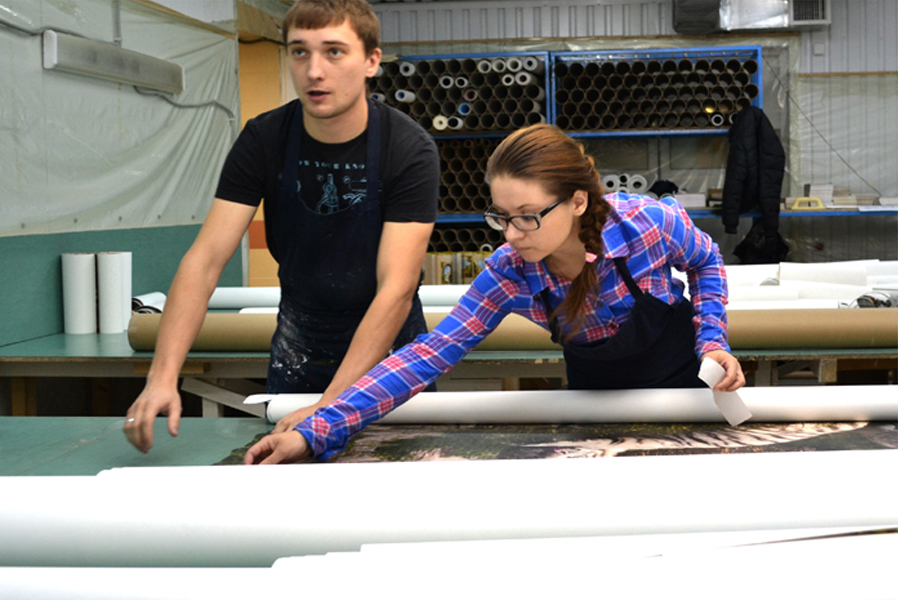 We did our best that Affresco products become qualitative and durable saving the base of the ancient technological process!